What are the best options to do that?
Shipping is a major concern for eCommerce stores.
It can be difficult to find the right shipping solution for your business.
There are many different options available, and it can be hard to know which one is best for you.
Many different factors go into choosing the right shipping solution for your business.
You need to consider how much you want to spend on shipping, what kind of products you sell, and how often you ship items out.
5 different options to find the best solution:
Work directly with Professional courier companies.
Hire agencies to do the work for your business.
Use the Postal service (USPS) and other services depending on the country.
Let your supplier handle the shipping process for you.
Use ShippingToGo for lower shipping prices.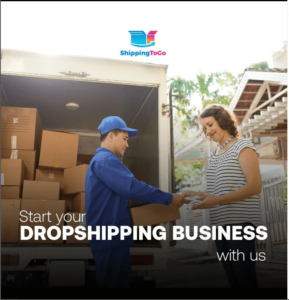 What You should know about eCommerce shipping?
The first thing that you should do when looking for a shipping solution is to figure out what kind of products you sell and how often they need to be shipped out.
If your products are heavy or fragile, then it might not make sense to use a service like UPS or FedEx because they charge more per package than USPS does.
If your products are light and don't break easily, then USPS might be the best option because it's cheaper than UPS or FedEx but still reliable enough that packages won't get lost in transit.
Shipping is a major concern for eCommerce stores.
It can be difficult to find the right shipping solution for your business.
There are many different options available, and it can be hard to know which one is best for you.
If your products are heavy or bulky, then it might be best to use a freight company like FedEx or UPS instead of USPS or Canada Post. If your products are small and lightweight,
then USPS might be the best option because they offer flat rate pricing on packages under 13 ounces in weight.
Why is crucial to have a proven shipping solution for your eCommerce store?
The main factors that are essential to any eCommerce store owners:
Good high-quality customer service.
Fast shipping options and methods.
Better dealing with customs regulations.
lower prices, and better shipping rates.
more profit when paying less on shipping.
E-commerce shipping is a very important part of the business.
It is what allows the customers to have access to their products and encourages them to come back.
There are many different options for eCommerce shipping that you can choose from, but which one is the best?
The best option for eCommerce shipping depends on your business needs and goals.
If you're looking for something that will be cost-effective, then USPS Priority Mail might be a good choice.
If you're looking for something that will offer more flexibility in terms of delivery options, then FedEx Ground might be a better choice for you.
It is important to decide what option is best for your eCommerce business.
Many factors play into the decision and it is important to consider them all.
There are three options for shipping that you can choose from ground, air, or ocean freight.
Ground shipping is the cheapest option but it can take up to ten days. Air freight takes less time than ground but it is more expensive.
Ocean freight takes the longest amount of time but it has a lower cost per unit shipped than air freight and ground shipping.
What is the difference between eCommerce shipping and regular stores?
If you want To be able to understand the main differences between eCommerce shipping and a regular store, first you should know what the word "eCommerce" means.
eCommerce means a purchase transaction that occurs online when the client does everything alone through an online shopping funnel.
Clients can pay also on the phone with a salesperson on the other side of the line but with eCommerce transactions, the client usually does everything alone.
Eccomerce means to sell online, stores that are made on Shopify, Wix, Wooccomerce, and Amazon, for example, are the perfect eCommerce platform that has been ever created by humans and AI in the world.
Regular stores usually sell in person or on the phone and there are more physical and human relations between both parties.
E-commerce can relate to the selling of physical and digital products online,
-the main difference with physical products is that the product is shipped to the client's address after purchase and with digital products, the client receives a login code usually Username and a password to use the digital product they bought.
eCommerce Stores Shipping Rates
Why do the biggest eCommerce stores pay less?
For multiple reasons:
They make huge valium shipments daily.
All the biggest couriers are fighting for their attention.
They receive lower shipping rates from companies every day.
Mostly because they are successful and pay a lot to the couriers.
The shipping rates are dependent on the weight of the product, the destination, and the service.
The weight of the product is calculated by multiplying its length, width, and height. The destination is either domestic or international.
Domestic shipping rates are calculated by adding a fixed fee to a per-pound rate.
International shipping rates are calculated by adding a fixed fee to a per-kilogram rate.
The service can be ground, air, or priority mail. Ground shipping takes 3-7 business days for delivery while air shipping takes 2-5 business days for delivery and priority mail takes 1-3 business days for delivery.
Shipping rates can build or kill an eCommerce store
Shipping rates are a significant factor in the success of an eCommerce business. They can make or break a sale.
The shipping rates for eCommerce vary depending on the type of product, the distance from the warehouse to the customer, and other factors.
There are three main types of shipping rates: flat rate, weight-based, and zone-based.
Flat rate shipping is when a company charges one price for all products regardless of weight or distance from their warehouse to the customer.
Weight-based shipping is when companies charge customers based on how much they order and how far it has to travel to get there.
Zone-based shipping is when companies charge customers based on what country they live in and what zone their country falls into.
Best companies to work with for eCommerce shipping solutions
-DHL
-UPS
-FedEx
-Hermes
-Aramex
-USPS
The shipping couriers for the eCommerce industry are growing by leaps and bounds.
The industry has grown from $3.4 billion in 2013 to $4.8 billion in 2016 and is expected to grow to $6.1 billion by 2020.
This growth of the sector can be attributed to the rise of e-commerce, which has increased by more than 20% in the last few years and is expected to grow even further in the coming years.
We all know that eCommerce is a booming industry, and it is growing at an exponential rate.
In recent years, the number of eCommerce companies has grown exponentially.
This has led to a greater need for shipping couriers.
There are many different shipping couriers available in the market today.
The most popular ones are FedEx, UPS, USPS, and DHL.
There are also specific couriers for certain items like flowers and food deliveries.
These days many companies have started offering their services online as well.
This has led to great competition among them as they try to provide better service than their competitors at lower prices while still making profits of course!
How to Choose the courier with the lowest rates?
Well, to be able to choose the courier that will offer the lowest rates, you need to have some activity in your store.
Most of the leading shipping couriers are looking to work with stores that have high valium orders every day, between 20-50 products minimum so they would be able to offer you lower prices.
The negotiation usually starts when you email multiple agencies and shipping couriers to receive an attractive offer from one of them, make the comparison, and then you choose the most attractive offer for your business.
The process can be frustrating and it can take time, from days up to weeks and sometimes up to months you can waste a lot of time, energy, and effort while doing that, and it can be exhausting.
eventually, you will get an offer from one of these couriers, and if you can prove to them that it works for them to give you better ras, some of them will do it.
what is e alternative – How to find better shipping rates for eCommerce stores?
Well, one of the methods to find better shipping solutions for your eCommerce store is to use this website to do that, because we can give you better rates if you send enough products daily, and we can do it fast without exhausting you.
The best way to do that is to contact us and get a customized offer from one of our representatives on phone, or email and then we can start working together and give you better shipping rates sometimes even within 1-2 days max.
The eCommerce platforms we work with today:
Shopify stores
Woocommerce
Magento
Wix stores
Customized stores and more.
We have developed an API that automizes the process and makes it effortless for you, so you won't need to make every order manually.
Contact us below for more details, and trust me that we will make you happy.
Here are some more shipping solution options for Eccommerce
1 ShipStation.

2 Shippo.

3 Easyship.

4 Essential Hub.

5 ShipEngine.

6 ShipWorks.
These websites are also leading websites for eCommerce stores and we also recommend checking them out to have the best shipping rates.
Is there a difference between Shopify, Woocommerce, Wix, and Magento Rates?
It doesn't matter to a professional shipping company what platform your store is built on,
all that matters to them is what type of products you need to ship, how many of them, and how much money you can afford to pay, that's all.
At the end of the day, it's a numbers game, the store that sells and ships the most every day wins, simple as that!
You send more parcels every day, you win my friend because everyone and their brother will want to work with you simply because you will make more money for them in the long and short periods.
So focus on scaling your business, focus on growing, when you will grow and sell more, you will have more options and everyone will chase after your store!
Ecommerce shipping strategy
An eCommerce company has to find a balance between the number of products it can offer, business costs, and the level of customer experience. One way
of achieving these goals is through creating fewer SKUs and using a more cost-effective shipping strategy.
This strategy involves first understanding the company's target market, then finding and partnering with
companies that can offer competitive rates for international shipping. Furthermore, this strategy also means understanding the perils that come with international shipping.
An example of such peril is the possibility of paying high-duty fees when products are imported or exported to certain countries.
These high fees are often a result of unforeseen restrictions or different laws in other countries that may have otherwise been unknown when items were ordered earlier on in an order cycle.
Shipping strategy is an important part of any eCommerce business model.
The strategies vary depending on the different needs of each company and the type of goods they sell.
All shipping methods and solutions
>Air Shipping
>Land shipping
>Sea Shipping
These are the top 3 shipping options today that we all share, when it comes to international shipping, air shipping is the fastest shipping method to choose.
Sea shipping takes a long time and land shipping usually occurs in the same country the delivery should be maxed at 1-2 days, sometimes more.
The development of electronics as well as IT developments in supply chain management have made it possible to create tools to provide quick shipping of goods.
It is now possible to generate a database of physical products that enable retailers and manufacturers to manage their inventories more efficiently.
The following section explains what technologies like augmented reality and shipping containers have developed over the last decade so that companies and consumers can enjoy fast, accurate, and affordable shipping methods.
Companies are also implementing customer mobile apps in solving the fast-shipping problems.
Nowadays customers only need to zip code information on the company's order page (or input information through an app) to specify their preferences in delivery speed for shipping.