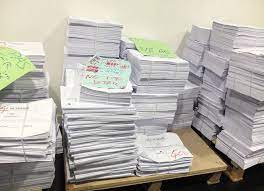 Sending Documents Overseas
While shipping a car package, product, perishable item overseas might seem challenging, the process is much like shipping a package domestically.
There are major differences in delivery options and paperwork fulfillment, but the overall shipping process is quite similar. We are here to assist demystify sending documents overseas.
Individuals and companies can benefit from express deliveries of urgent documents almost anywhere on Earth.
Together with some reliable international courier services, we make sure that you send important letters and documents in the quick way possible.
Fully tracked envelope courier services
When sending significant documents and letters overseas, choose shippingtogo for the reliable combination of reliability and speed.
Every important document shipped with us receives an exclusive tracking number, which you use to follow the delivery at any time.
All you got to do is input the numbers sent via e-mail on our online tracking tool.
What can you send in an envelope with the document courier service?
Logistic, contracts, and commercial documents.
Passports, personal documents, and visa applications.
Business cards, price tickets for garments, blank forms, catalog, shipping schedules, and computer printouts.
Publications not for public resale and photos as part of company reports.
Calendar, personal letters, diaries to family and friends.
International envelop delivery in quick time possible.
Every hour counts when you require to send significant documents overseas.
To make the journey as fine as possible for you, shippingtogo would take identifying the reliable courier company based on your needs and managing all the details of the delivery on your behalf.
All we ask is, you should book the service and prepare the envelope appropriately, having only the document inside.
We will make sure your urgent envelope would deliver by courier in quick time possible, transported by plane, and goes past customs procedures.
What to do if you want to send documents overseas?
The shipper is answerable for printing the shipping label and attaching it to the envelope. The label will be sent a thorough email.
Shippingtogo document courier service is available at any address, residential addresses, private companies, embassies, public institutions.
The vital envelope delivery is completely registered, with proof of transfer through electronic signature.
For better safety and extended liability, it is available during the booking process.
FAQs – Sending documents overseas
What can't be sent with envelope shipping service?
Even though there is a long list of what you can send in an envelope, this service is limited for certain contents;
Magnetic and credit cards: in case a card is spotted inside the package, the parcel would be destroyed.
Bank checks or cash
Any content that fits in the envelope but isn't assumed letters or documents.
What happens if a small content is sent inside the envelope?
When content that isn't assumed a document is kept inside the envelope, the shipment would automatically consider as an express package and not a document.
This explains that shipment will deliver within 24-72hrs, though, it would go through all standard procedures including x-rays,
scanning, in case of worldwide deliveries, it also might go through customs procedures and even target the applicable fees and duties.
How does the extended liability work for the envelope shipping service?
The client can purchase the extended liability during the booking journey.
However, the extended liability only applies for international and national envelop courier deliveries if:
No forbidden contents are placed inside the envelope
The clients offer proof of value for the content of the envelope
How to send the confidential document via courier?
The two major features of sending confidential documents are proof and safety.
At shippingtogo, you get both. We work with vetted logistics companies to ensure your envelopes are in safe hands and you can buy extended liability for greater peace of mind.
On top of that, our international document courier service work as registered delivery since the recipient always has to symbol the proof of delivery, which can later be requested.
How can you get information tracking information on the envelop service?
A unique tracking number is given to every envelope shipped internationally or nationally.
The shipping label is attached to the envelope and is used to follow the journey of delivery.
Tracking is included when sending letters overseas and documents with our envelope service, you don't have to pay anything extra for it.
Get the quote and start shipping via shippingtogo.
What document doesn't fit in the envelope?
The envelop courier shipment is characterized not only by the limit of documents-only content but also by max dimensions and weight.
If your documents don't fit in one single envelope, they can be kept in more envelopes and you still benefit from special prices for shipment up to 2kg.
Alternatively, you can courier documents internationally in a box using our express shipping service and still get profit from worldwide deliveries in 24-72hrs.
What is the safest way to send documents overseas?
The fastest and safest possible way to send documents overseas is by using a registered envelope shipment service provider such as shippingtogo.
Shipping envelopes internationally by courier is much safer than using the postal service because that delivery is perceptible, retained, and personally raked care of.
Our team is available at each step of the way to support you with booking and handle all communication with the logistic earner on your behalf.
The envelop service is the fastest way to send letters and documents internationally because your papers will be transported via air transport, which is the finest transport mode available.
Book a document courier service with us if you also want to ship urgent, important, or confidential documents.