The cheapest ways to ship internationally Today
Usually using regular Post/Mail services of the country you are shipping from is the cheapest method to transfer parcels and goods when it comes to international shipping.
The postal service is by far the cheapest way to it alongside Overseas shipping if you take into consideration all the small details and shipping costs per the parcel parameter.
Shipping with the local post office has a lot of benefits, but besides the pros, there are also a lot of cons and we will try to cover them all in this article.
What you should know about cheap shipping costs
There are many factors that need to be taken into consideration.
The cheapest way to ship internationally will depend on the size and weight of the package, the type of product being shipped, and the destination country.
The cheapest way to ship internationally also will depend on a number of factors. These factors include:
-The size and weight of the package
-The type of product being shipped
-The destination country
There are multiple ways to ship abroad with fair prices and when I say "Fair" I mean low and decent prices so it will be worth it for any business or company to ship internationally on a daily basis and remain with profit.
ShippingToGo offers an excellent alternative to the traditional cheap shipping methods by the postal service as we discussed earlier and helps companies, businesses, and individuals to receive cheap and express rates when it comes to international shipping generally speaking.
Multiple cheap international shipping methods today
Shipping internationally is an expensive affair. However, there are ways to save on international shipping costs.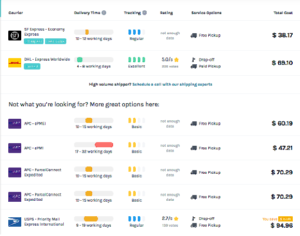 Some of the cheapest ways to ship internationally are:
Shipping with a freight forwarder
Shipping through a consolidator
Using LTL carriers for large shipments
Using air freight for time-sensitive goods
Why it's better to pay more and use express shipping?
Express shipping is a type of shipping that is faster than regular shipping. It usually takes 3-7 days to deliver the package.
When you choose one of the Express shipping couriers for international shipping purposes,
yes, you pay more than a low price post shipping, for example, the USPS but if you use the ShippingToGo calculator you may pay slightly less thank you think.
The express shipping industry has been growing rapidly in recent years. The growth is mainly due to the increase in e-commerce and online shopping.
It's much better to use one of the express shipping methods even if it costs more because of multiple reasons:
1) It's faster and safer.
2) Fewer custom problems.
3) Better customer service.
4) Cheaper prices for Companies.
5) ShippingToGo special prices.
Biggest Express Shipping Companies Today
The biggest express shipping companies today are FedEx, UPS, and DHL.
FedEx is the world's largest express shipping company.
It has a fleet of more than 550 aircraft and operates in more than 220 countries and territories.
UPS is the world's largest package delivery company.
It delivers more than 15 million packages per day to 6.1 million customers in 220 countries and territories around the world.
DHL is a leading global provider of logistics services with a network spanning over 220 countries and territories worldwide, connecting people and businesses securely and reliably every day.
The Factors that are the most important for Shipping rates
Shipping rates are a major factor in the success of an e-commerce business.
The cost of shipping can be a significant expense for online retailers, and it is important to find the cheapest shipping rates possible.
There are many factors that affect the cost of shipping, including weight, size, distance, and speed. The most common way to find cheap shipping rates is by using a freight broker or freight forwarder.
These companies will negotiate with carriers on behalf of their customers to get the best rate possible.
This website's main benefit is that we work with all the biggest shipping couriers in the world and we have the best prices for you.
Our shipping calculator is a data-based algorithm that is designed to help the user to find the lowest shipping courier for international shipping.
For a better understanding of how it works, use our calculator and find out in under 2 minutes functional information about cheap shipping methods with the world's leading couriers today.
USPS shipping rates
The United States Postal Service (USPS) is an independent agency of the United States government responsible for providing postal service in the United States.
USPS shipping rates are based on weight and distance.
The USPS offers discounted rates for customers who ship packages at least once a week or more often than that.
USPS priority Mail International – Small Flat Rate Box6-10 days$36.45USPS
First-Class Package International7-15 days$26.36
USPS priority Mail International6-10 days$51.44
USPS priority Mail Express International3-5 days$67.28
USPS UPS Worldwide Expedited2-5 days$127
05USPSUPS Worldwide Saver3-5 days$137.15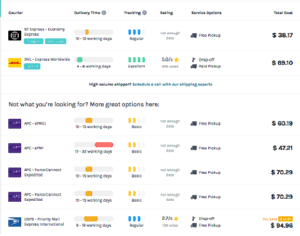 FedEx shipping rates
In 2013, FedEx bought TNT Express for $4.8 billion to expand its global reach in the Asia-Pacific region.
FedEx Shipping Rates
There are different rates for different types of packages, depending on what service you choose and where you're sending your package to:
-Ground: For packages that weigh less than 150 pounds and are going within the U.S.
ground service costs $12 per package with an average transit time of 2-5 business days;
for international shipments, ground service costs $20 per package with an average transit time of 5-7 business days;
FedEx international Economy4-6 days$113.69
FedEx international Priority1-3 days$118.72
DHL Shipping Rates
DHL Shipping prices are calculated on the basis of the weight, size, and destination of your shipment.
The price is calculated by multiplying the weight (kg) by the volume (m³).
This is then multiplied by a rate per kg or per m³ which varies depending on whether your shipment is air freight or sea freight.
UPS Shipping Rates

Which Courier is the cheapest for international shipping?
Usually, the postal office is the cheapest among all the other options but if you use a special courier option FedEx has the lowest prices,
and working with the ShippingToGo website will make your lives even easier.
Don't forget that there is endless competition between these companies and they all want to give their clients the best service at the best prices and still stay profitable.
On our internal research of working with these companies in the latest years, FedEx is the cheapest, more than DHL and UPS and we have better prices with shipping with FedEx.
The cheapest way to ship internationally with ShippingToGo Express shipping
As we mentioned multiple times, this website isn't a shipping company and we don't work directly with USPS or any other postal office in the world for cheap prices.
Most of the postal services in the world are less efficient than professional couriers and usually,
there are always problems in shipments with customs and delayed shipping times.
ShippingToGo is a complete game changer for cheap express shipping methods and dozens of large companies benefit from our services worldwide.
Companies ship dozens of parcels and packages on a daily basis from Europe to the USA, from China to the USA, and from the USA to the reso of the world.
This website allows you to choose the lowest price for express shipping anywhere in the world, in more than 220 countries in the world.
The steps for cheap international prices
Follow these simple steps to get multiple offers with special prices:
Go to our home page
Select the origin and the delivering country
Choose the number of parcels
Enter the Weight, length,width, and height
Press on the blue button "Get Quotes"
Grab a couple of coffee and let us do the work for you!
After you Follow these 5 simple steps, all it's left is to choose the cheapest courier that our algorithm has found for you, fill out what is missing and complete the transaction.
After doing all that, the messenger will come usually the next day to collect your package and you can track the parcel all the way 24/7.
If you have any problems or questions or anything you don't understand, please don't hesitate to contact us via phone, WhatsApp, email, or a direct chat on the Website.
Why Overseas shipping is cheaper but you pay more?
The main reason Overseas is considered to be the cheapest shipping option is due to the long shipping times and shipping costs when you take into consideration all the details like Weight, Height, Length, and Width of the shipment.
Generally, Overseas shipping costs are higher due to the large containers, people usually ship cars and big boxes with overseas shipping.
Shipping a product overseas can be quite expensive, especially if the product is heavy.
There are many factors that contribute to the cost of shipping.
For example, the size of the product and how much it weighs might have an effect on the price.
Talk to us to receive the best shipping price offers for overseas shipping with different couriers.
Last words.
So Postal and overseas international shipping is by far cheaper than express shipping, however,
express international shipping on a larger scale is a better solution for better shipping rates and other issues as well as mentioned in this article.