Are you searching what is DHL express international shipping?
What are the advantages of this service and why would you choose it?
In this article, we will take a look at DHL express international shipping, their rates and services, as well as their terms and conditions, and much more.
What is DHL Express International?
DHL Express is a premium courier option from DHL that you can choose for international shipments.
With a network of 220 territories, DHL is the global market leader in express courier service. An express shipment ensures your package is delivered within an exact timeline.
Many online sellers choose DHL express international shipping because it permits them to know exactly when to expect their package. This also minimizes the number of failed delivery attempts.
DHL Express vs. DHL Parcel
DHL Parcel and DHL express are separate different branches managed by the same parent company.
The shippers offer multiple international express services with reliable and versatile delivery options.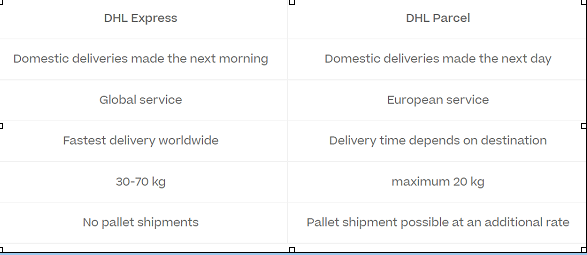 When does DHL Express Deliver?
The shipper has three delivery time options:
By the end of the first possible business day( DHL express international shipping).
Before 9 am on the very next working day.
Between 9 am and afternoon on the next working day within the state.
The delivery time is fairly dependent on the shipping option you select. DHL Express is a premium courier option and delivers on Saturdays.
We cannot say often enough; the best checkouts have multiple courier options. That is why you combine multiple shipping options and carriers with ShippingToGo to make the best match for your online business.
DHL express international permits you to satisfy demanding clients, internationally and domestically. Express deliveries are an addition to your extra service and checkout for your customer. DHL express international also increases the chance of delivering parcels, on the first delivery attempt.
On an international level, you can give clients a choice in your checkouts and guarantee quick delivery. Here are some advantages for you:
Speedily possible express delivery worldwide.
Delivery before the end of the first working day for worldwide shipments.
Delivery on the next business day before 9 am and between 9 am and midday for domestic shipments.
SMS tracking.
Premium shipping option.
Free pick-up.
Fully automated sending via ShippingToGo.
Reasonable additional insurance via shipping to go.
Extra service for your clients with on-demand delivery
DHL Express is the quickest global courier option on the market. The delivery time depends on the destination: how long your parcel will actually take on the way.
Worldwide Terms and Conditions
DHL express international has a number of additional benefits. For example, the total weight of the courier can be significantly higher. With this courier option, you can count on shipment before the end of the first possible working day. The conditions are as follows:
Maximum dimension per price: ( L X W X H) 120 X 80 X 80.
Maximum weight per piece: 70 kg.
Maximal weight of total : (no pallets) 1000 kg.
Maximal volume weight: (L x W x H/5000) 200 kgperm3 .
As with DHL Express domestic ( before 9 am and before afternoon), you should also consider DHL Express international's conditions to avoid surcharges.
What is the volume weight ?
The volume weight or DHL calls it volumetric weight marks the density of the parcel.
This weight is measured and compared with the real weight of the courier to determine which is greater.
This protects against overloading with the aim of making the shipping experience as efficient as possible.
Always compare the actual weight to the volume weight of your shipment. The heaviest of the two calls as the billing weight.e.
DHL Paperless Trade
Every year, 8.8 million hectares of forest are trimmed down for the manufacturing of paper.
Unfortunately, sending international shipments needs a lot of paperwork. It also takes a lot of time to fill in the right client's forms and add them to international shipments.
That is why DHL paperless trade was created. Via DHL express international trade, clients' forms are sent digitally to DHL. This saves a lot of time, effort, and hassle.
This experience is fully automated via ShippingtoGo. Once you have entered customs information into the software and designed a label, the documents are automatically sent digitally to DHL.
How does DHL Express International work with ShippingToGo ?
Already have an account with ShippingToGo. Then you can be started with DHL express shipping option immediately. Are you using your personal contract?
Then you can operate DHL express in your shipping area with your own price agreements and a single click. In My contracts, you can operate your current credentials and get straight to work.
You don't have a contract with DHL? Then you can use ShippingToGo discounted rates to get started with DHL express international.
You will privilege from a free pick-up service in which DHL picks up your courier at an agreed time. You select a time frame in which DHL can come by for a pickup.
Always keep a range of at least 12 hours. You can also drop off your carriers at express service points. But be careful: not all normal DHL points are also express points.
DHL Express is a premium shipping option. The charges of a shipment depend on the destination and the weight of the courier. In your cost overview, you will find the costs per destination and weight class.
Do you use smart shipping instructions? Then avoid mistakes by setting circumstances in which you want to choose DHL Express automatically.
Once you know which DHL options you want to work with, print labels in one click. After your couriers have been picked up, you and your clients can follow them closely. Happy shipping!
If you have any queries regarding DHL express, feel free to contact here.
Looking for the right shipping options for your parcels? Check out which carriers such as DPD, DHL, and more are right on our Home Page.
Want to speedily scope the delivery time and charges for DHL? Check our simulator guide rate calculator helps you compare DHL Express delivery times for international shipments.